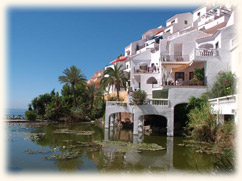 The apartments in the Playa resort are built in a spectacular horseshoe shape around a valley overlooking Nerja's Burriana Beach. The restaurant is set around the pool and gardens with a separate children's pool. A leisurely stroll past the lake and through the gardens leads down steps to the beach.
There is a convenience store on the beach and the main supermarket is approximately 1km away. All the apartments have a sea view and accommodate up to six persons in two bedrooms (one double and one twin) with a sofa bed in the lounge area. Although there is a lift for visitors' use, El Capistrano Playa is not suitable for the disabled or infirm as it is built into the cliff.
A local bus connects all three urbanizations with the beach and town, taxis are readily available. However a hire car is recommended in order to get the most from a holiday in El Capistrano.

Example Playa Balcony


Example Playa Master Bedroom


Example Playa Twin Bedroom


Example Playa Lounge Area


Example Playa Bathroom


Entrance to El Capistrano Playa pool


View up to El Capistrano Playa from Burriana Beach


View out to sea